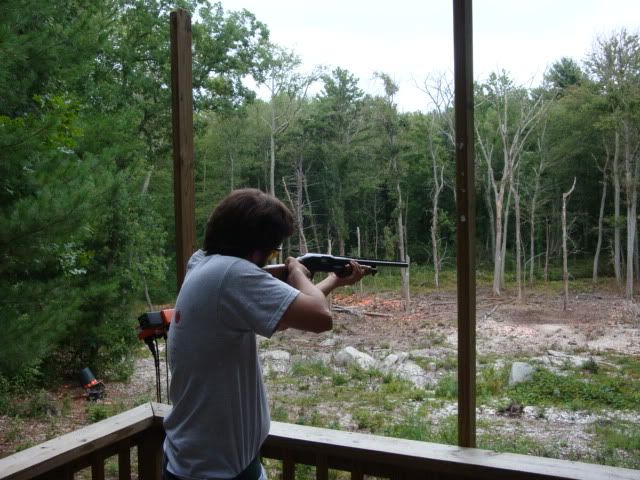 On Saturday, I went to Addieville East Farm in Rhode Island for a friend's bachelor party. My previous shotgunning experience probably totaled about one box of shells including about 10 clays off a manual thrower at the Bloggershoot. So, I had no idea what I was in for in a round of sporting clays.
For those who don't know, sporting clays is basically golf with a shotgun. You walk through the woods to a sequence of stations. At each station, there are two clay throwing machines. The throwers are sat at varying locations relative to the shooting position. Some are on the ground, some are up in the air. Some throw toward you, some away, and some across. Most of the stations on the portion of the course I did (I had to leave after lunch to get to a wedding.) were 'report pairs'. What this means is that you call for the first target, and the second one is launched when you fire at the first one.
I mostly used a borrowed Mossberg 500. That was nice, as that's the shotgun I'm thinking of buying. I did try an O/U for the one station that was a true pair (both targets launched simultaneously). It pretty much cemented my plan to buy a 500. It's cheaper than the 870, and I like the position of the safety and slide release better.
I had a great time and broke what I think was a decent number of clays for my first time out. In fact, I had so much fun that yesterday I swung by Wal-Mart and grabbed some shotshells. I then went to my club, which has trapshooting on Sunday afternoons. I watched the tail end of a round and then talked to one of the shooters. When I told him that I was thinking of buying a shotgun and was curious about shooting trap and had brought a couple boxes of shells, he was happy to offer up his shotgun for me to try.
This one was a fancy O/U. I didn't catch the brand, but it doesn't really matter because I'm sure it's out of my price range. I did like the O/U for convenience of loading for clay games. I may buy one eventually, but I'm still planning to start with a pump because of cost and versatility. O/Us are great for target shooting, but when a home invader is coming down the hallway, I want more than two rounds.
I shot a 15 the first round, which I didn't think was too bad for my first round of trap ever. The shooters decided to shoot one more round, and the guy whose shotgun I was borrowing was done shooting for the day, so I decided to try again. This time I focused on his advice to swing smoothly through the shot and follow through. I broke 21 of 25 targets in the 2nd round, which I think is pretty good for a beginner. Targets at sharp angles from stations 1 and 5 give me fits, but I'm sure that just takes more practice.
I was hoping to hold out from buying any more guns for a while, but I had so much fun shooting clays this weekend that I think I'm going to have to get a shotgun. I'm planning to get a Mossberg 500. I'm deciding between a cheap used one and the "Field/Security Combo" if I go new. I'm leaning toward the new combo as it doesn't cost much more than a used gun plus an extra barrel.